| TOGETHER WITH | |
| --- | --- |
It's Friday and you made it. A lot of things happened since our last date so let's cut to the chase.
2020 Election.
Senator Elizabeth Warren bows out of the race.
Biden can finish off Sanders in Michigan where he's struggling to expand his base. A Detroit News/WDIV-TV poll has Biden ahead of Sanders by nearly 7 percentage points in Michigan.
Hawaii Rep. Tulsi Gabbard is still in the race.
Coronavirus. The stock market had another terrible day diving nearly 1,000 points. Dating app Tinder warns people not to get too close. Good luck with that. Vice President Pence says America doesn't have enought virus test kits. Southwest's CEO says the lack of travelers has a '9/11' like feeling to it.
We could devote this entire edition to coronavirus but we'll save you from that.
In Today's Newsletter
Interest rates approach zero.
House flipping drops like it's hot.
Foreign investors flock to U.S. real estate
CONFIRMING LOAN

Program

Rate

Change

APR

Change

30 year

4.67%

0.73%

4.76%

0.75%
15 year

3.77%

0.30%

3.95%

0.35%
The Lead: U.S. Real Estate as Safe Haven
Morris Invest new construction duplex. credit: morris invest
Come on in, the water's nice
U.S. real estate is a beacon of hope for international investors seeking shelter from coronavirus. They're specifically looking for single-family homes as a safe harbor.
Real estate investing websites like Morris Invest are seeing a surge in foreign investors looking for properties. These investors can grab a new construction property with a tenant in place without ever setting foot in America. That's because the property is fully managed by a property management company after the tenant is placed. The company says they've had to add additional staff just to handle the call volume from wealthy international buyers.
It's not just investors from Asia. Morris Invest says they're seeing a surge in buyers from Europe, Canada, and Australia.
Shortage
The U.S. housing market had already been in the midst of a severe shortage of homes for sale, and this increased demand just heightens the competition. Morris Invest says they're building over 400 new construction homes for their clients in 2020 and they have a waiting list with people looking to buy.
Sponsor: NREIG
Want to save a boat load of money on insurance? Now you can with NREIG.
We were blown away by how easy it was to bind coverage for our rental portfolio in just a matter of minutes on their website. They also have some of the lowest rates in the industry. Here are some other great points:
Pay as you go on monthly basis, cancel any time.
All locations go on one monthly schedule – one master policy.
Insure multiple entity names, LLCs, Trusts, etc. on one schedule.
Insure any occupancy phase, occupied, vacant, renovation, new constructions, vacation rentals.
An easy to use online portal.
Sign up today right here and see what NREIG can do for you. You'll thank us later.
All Time Low
credit: giphy
Well, we were wondering on Monday how low interest rates could go. We found out! Mortgage rates are now the lowest they have ever been since Freddie Mac started tracking them in 1971!
Rates fell 16 basis points from last week after the stock market experienced the worst single-day drop in history. This can all be attributed to international economic decline due to the spreading of the coronavirus.
And is this working to stimulate mortgage and refinance applications? Apparently it is! Lenders have a rush of activity as borrowers try to lock in these super-attractive rates.
If you need to do the math to see if these refinances work for you, see Monday's newsletter for that math. And remember to never finance the closing costs!
All Time High
credit: giphy
All this up and down is making my quads tight.
Home flipping in the US is at an all-time high. That is, a high of people doing it, not a high of people making profit from it.
A new report from ATTOM Data Solutions shows that there are more houses being bought and sold than ever before, 21% more in 2019 than in 2018. But the profits are not at all-time records. Au contraire! Returns on those flips are at an eight-year low.
Homes that were flipped in 2019 generated, on average, a profit of $62,900, or 40.6% returns on investments. This is down from 45.8% in 2018 and 51.4% in 2017. These numbers are national averages. Certain markets such as Laredo, Texas had a huge increase in returns, up 103.5%!
Boston Sink Party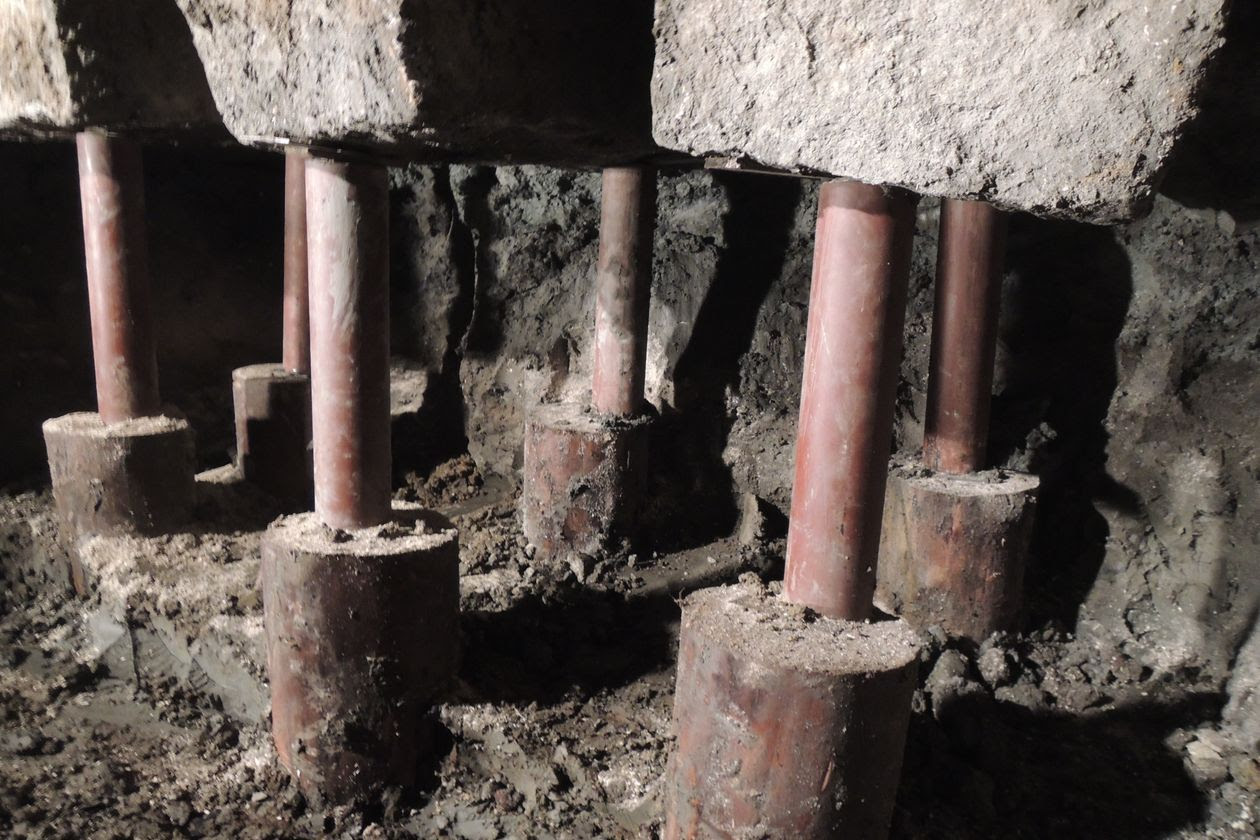 credit: boston groundwater trust
Some of Boston's priciest real estate is sinking. And there might not be a way to stop it.
If you walk through Boston's most beautiful historic neighborhood of Beacon Hill, you might not want to judge a book by its cover. That's because that red brick house you're drooling over, priced at $2.5 million, is sitting atop rotting wood beams.
According to the Wall Street Journal, it's an open secret among sellers and brokers. To point where they don't want even to discuss it. In that way, Massachusetts has become a "buyer beware" state, don't ask too many questions.
Many out of state buyers don't know about the problem and don't know to ask. After the purchase, the buyer is on the hook for repairs not covered under insurance. The repairs pictured above, involve cutting the rotten wood and replacing it with metal caps. The old foundation stones then sit atop the new metal caps.
Too hot.
Boston's real estate market is so hot that many buyers are waiving their right to inspect just to grab a deal before someone else can snap it up. Buyers who wave an inspection won't know there's a problem until the walls start sagging. Many of the rotting foundation houses are kept standing with the help of the home next door.
It's like real estate Jenga. Pull one brick, and the whole building comes down.
News By The Numbers
500. That's the number of Bernie Madoff's victims who oppose his release from prison. Bernie Madoff, who oversaw the biggest Ponzi scheme in history, is asking a judge for early release from his 150-year prison sentence because he has terminal kidney disease.
5%. Like real estate, gold has an 'immunity' to coronavirus. Gold has gained 5% this year, far outpacing the S&P 500's 8% decline.
0. That's the chance that the Tokyo 2020 Olympics will be canceled over coronavirus. The organizing committee said it would be "impossible" to pull the plug.
Share The Love
Become a friend of Morning Invest by sharing this newsletter with someone you love.