| TOGETHER WITH | |
| --- | --- |
Happy Thursday! Football returns tonight with the Texans taking on the Super Bowl champion Chiefs. Say what you will, but Fall is not Fall without some football and a Sam Adams Oktoberfest.
credit: giphy
In Case You Missed It.
Costco teamed up with the famous New York cheesecake maker Juniors to sell a fall-themed cheesecake with apples and cinnamon. If this doesn't cheer you up, we don't know what will.
Coronavirus Update: Total confirmed U.S. cases as of 3 a.m. ET: 6,362,107 — Total deaths: 190,869 — Total recoveries: 2,387,479
A new study shows that cats can and are contracting COVID at an increasing rate.
In Today's Newsletter:
PPP loans scammed
Facebook better wise up
Colleges lock down campus
CONFIRMING LOAN

Program

Rate

Change

APR

Change

30 year
3.08

%

0.03%
3.15

%

0.04%

15 year
2.74

%

0.00%

2.87

%

0.01%
The Lead: Millions Stolen in Stimulus Scam
credit: getty
Over 75 companies that received money from the Paycheck Protection Program seem to have not existed before this pot of money became available. This money was meant for struggling businesses to keep paying employees during the pandemic, but there are bound to be bad apples where there are good intentions. These bad apples took money from the federal government that was meant to keep us all afloat.
For example, a man in Texas is linked to five suspicious companies that received $3.65 million in PPP money. He applied on behalf of a school with a cut and pasted curriculum from a European school, two companies with the same website, and two companies with no web processes whatsoever.
Florida Fraud
Over 20 businesses have been charged with fraudulent use of the PPP program. One out of four of them is from Florida.
PPP was relatively easy to game because it was based on self-reported data from a company's payroll, and the rollout was quick due to a nosediving economy. Journalists and anti-corruption data scientists flagged much of the fraud that has been charged. Karma is a b… bad thing.
Sponsor: Get Free Money with Webull
Why not get some free money? Right now you can get one free stock valued up to $1,600 just for opening an account with Webull. And you have to check out Webull's new desktop app too! Seriously it's awesome.
You'll get up to $1,600 in stocks just for opening a free trading account with Webull. Simply click here and start an account. Even if you never do anything else with the account you still get that free money.
With Webull you can invest in thousands of companies using their trading tools and analytics to create your own financial portfolio. And the best part is $0 commissions and no deposit minimums. I remember when I used to pay $6 per trade with some other companies. Not any more thanks to Webull.
Sign up today and get your free stocks. Thanks, Webull.
Europe: Facebook Gets Its Hand Slapped
credit: Giphy
Regulators in Ireland have asked Facebook to stop sending data about European users to the United States. If Facebook fails to comply, it could be fined 4% of its annual revenue or $2.8 billion.
In July, a top court in Europe ruled that tech companies could not store data about EU citizens on US servers, invalidating an older agreement called Privacy Shield. Ireland's Data Protection Commission's request is the first step in enforcing this ruling.
What's next?
To comply with this request, Facebook would have to find a way to separate this data or stop collecting it, which is exactly what privacy advocates have been championing all along.
The recent request is preliminary and will likely be negotiated for months, but it could set an important precedent for other tech companies operating in Europe where user privacy is no joking matter.
Kids: Vaping on the decline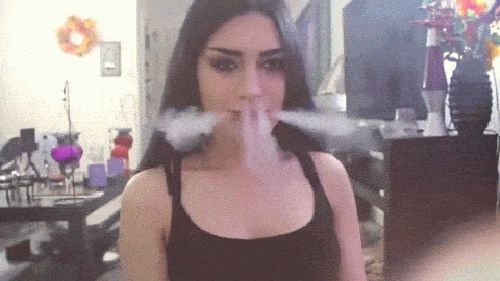 credit: giphy
It would seem that the kids are not vaping as much these days. According to the FDA and Center for Disease Control, only 20% of high school students admitted to using e-cigarettes, down from 28% last year.
Don't get too excited, though. Twenty percent of high school students are still 3.02 million kids.
Recently the government raised the legal age to 21 for tobacco products and took the fruity-flavored e-cigarettes off the market.
The reduction in use also applied to middle school. Only 4.7% of middle schoolers reported having vaped, compared to 11% last year. Middle schoolers!? Christ. And what about Kindergarten? Are some of them vaping too?
News By The Numbers
credit: Herman Miller
$1,445. That is how much the Aeron Chair by Herman Miller costs. It is a computer desk seat designed for gamers who want to spend a lot of time there.
33,000. That is how many people Amazon is seeking to hire for corporate and tech jobs. Amazon reported record profits between April and June as home-bound consumers turned to the site for groceries and socks alike.
14. That is how many mammoths have been found at a massive excavation site in Mexico. Workers have been carefully digging out the preserved remains of over 100 animals, including mammoths, camels, horses, bison, fish, birds, antelopes, and rodents in Zumpango, as workers prepare to build an airport nearby.
College: Under Lockdown
credit: ap
Every student at Bradley University in Illinois has been put on quarantine for two weeks due to COVID breakouts.
Students must stay in their homes and take remote classes for 14 days. Due to several cases linked to off-campus parties, all students are specifically prohibited from house parties, keg parties, frat parties, sorority parties, toga parties, and any other fun thing that involves anyone other than a roommate.
A Penny Saved Is a Penny Saved
credit: medium
JC Penny will live another day. Two investment firms, Simon Property Group and Brookfield Property Partners have agreed to buy the department store chain for $1.75 billion.
The deal was announced in bankruptcy court since JC Penny had to file for Chapter 11 in May. Both purchasing companies are the two largest mall owners in the US and already landlords to many JC Penny stores.
JC Penny is one of the country's oldest department stores, started by a man named James Cash Penney in 1902. I mean, with a founder named Cash Penney, you wouldn't think bankruptcy would be a problem, but times have changed.
Share The Love
Become a friend of Morning Invest by sharing this newsletter with someone you love.
When you do, we don't just give you a pat on the back and say, "Well done old sport." We give you actual rewards that'll make everyone jealous.