| TOGETHER WITH | |
| --- | --- |
Happy Monday. Anything interesting happen since we emailed on Friday? As a matter of fact, yes…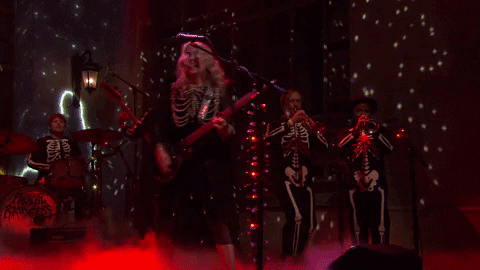 credit: snl
Singer Phoebe Bridgers' SNL guitar-smashing performance trended higher on Google than the Super Bowl on Sunday.
The Tampa Bay Buccaneers won the Super Bowl on Sunday night. The city of Tampa was flooded with maskless celebrants most of The Weeknd. See what I did there?
The Pope appointed two women to senior leadership roles that have historically been held by men.
A man in Utah is inviting homeless people to camp on his lawn so he can destigmatize homelessness. In exchange, they can volunteer to help him with his garden.
Every single state in the U.S., including Hawaii, will reach below-freezing temperatures today, meaning 86% of the country will have frozen coconuts.
Coronavirus Update:
Total confirmed U.S. cases as of 1:30 p.m. ET Saturday: 26,963,265 — Total deaths: 462,567
The UK Covid variant is said to be doubling in the U.S. every 10 days.
The UK says it will likely ask citizens to take a Covid booster shot this fall and an annual Covid vaccine from now on.
South Africa has paused use of the AstraZeneca-Oxford vaccine after researchers found that it provides "minimal protection" against the first Covid strain.
CONFORMING LOAN

Program

Rate

Change

APR

Change

30 year
2.66

%

0.03%

2.71%

0.03%

15 year
2.16

%

0.07%

2.25

%

0.07%
The Lead: Reducing American Poverty
credit: cnbc
Democrats are set to unveil a plan to give parents an annual payment of $3,600 per child under the age of 6 and $3,000 per child between the ages of 6 and 17.
This is the Democrats' version of the proposal from Senator Mitt Romney last week.

Both plans aim to reduce childhood poverty and provide some stability for low-income families. Under Romney's plan, parents of children under 6 would get $4,200 per year and parents of children between 7 and 17 would get $3,000 per month. They couldn't just leave his plan as is and vote on it?
Like Romney's plan, these payments are based on parents' incomes and would not start until July if they pass into legislation at all. There is no word on whether higher-income parents could take the money as a tax credit like they could under Romney's plan.
Ageism Doesn't Pay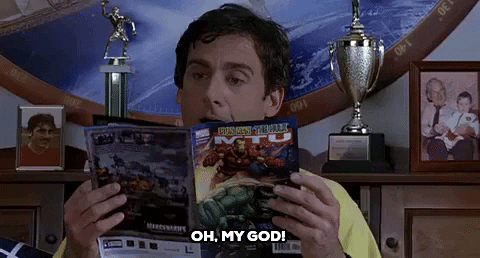 credit: giphy
Silicon Valley culture would have you believe that you have to be in your 20s to create a successful startup. A new study shows that is not true. In fact, the average successful tech company was founded by people who averaged 45 years old. Not 25 years old.
This comes from the Census Bureau and two MIT professors who analyzed a list of 2.7 million company founders between 2007 and 2014. The ones that did best were started by middle-agers. In fact, a startup headed by a 50 year-old is almost twice as likely to succeed than one headed by a 30 year-old.
So…life experience and wisdom count for something huh? Then why are we so youth obsessed? Maybe Tom Brady has something to say about that?
Sponsor: Stamps.com
Can you think of anything worse than waiting in line at The Post Office during a pandemic? That sounds awful.
Enter Stamps.com which brings the Post Office, and now UPS shipping, right to your computer. That way you don't have to leave the house!
Mail and ship anything from the convenience of your home or office.
With Stamps.com, anything you can do at the Post Office you can do with just a few clicks. Plus Stamps.com saves you money with deep discounts that you can't even get at the Post Office!
With Stamps.com, you get 5 cents off every first-class stamp and up to 40% off Priority Mail, and up to 62% off UPS shipping rates.
Try it now and get a FREE digital scale
with our promo code: INVEST. There's NO risk. With my promo code, INVEST, you get a special offer that includes a 4-week trial PLUS free postage and a digital scale. No long term commitments or contracts.
Just go to Stamps.com, click on the Microphone at the TOP of the homepage, and type in INVEST.
Remember Him?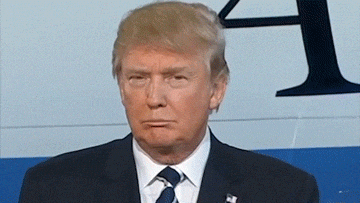 credit: giphy
The impeachment trial of former President Trump begins today in the Senate. According to an ABC News poll, 56% of Americans think that he should be convicted, impeached, and barred from holding office again. This is up from 49% just a month ago.
Support for impeachment amongst Republicans is 15%, up from 9% last month.
So what's changed? Perhaps the "barred from office" part has become increasingly appealing in the relatively peaceful days since the Trump administration.
News By The Numbers
credit: youtube
5-7 times. That is how much stronger a plastic brick is than a concrete brick. It's not really a brick, but a buildable material made from recycled plastic. It is the creation of a woman from Kenya named Nzambi Matee. It costs $7.70 per square meter.
53 years. That is how long ago a man from San Diego lost his wallet in Antarctica. It was returned to him after it was found behind a locker when his station was demolished.
64%. That is how many Americans think the stock market is rigged against amateur investors. The GameStop effect did not help.
68%. That is how much exports were down from the UK to the EU since the implementation of Brexit on January 1. Politicians are acting surprised by this.
Wazowski, You Didn't File Your Paper Work (bonus if you can name the movie reference)
credit: ny post
A British man has to tear down his $70 million mansion in France because he did not get the proper permits to build it. We guess he didn't get the memo that Europeans love bureaucracy and take it very seriously.
The mansion in question was custom built from imported Italian stones. It has two helipads, a salt water swimming pool, a bell tower, a greenhouse, 17 acres of gardens, vineyards, olive groves, and lily ponds. All of that must be gone in the next 18 months.
The man said that the town mayor gave him permission to build but he never actually it in writing. The only permit he did have was for a "small extension" on the original farmhouse. He plans to fight the town's order for demolition.
The Face of Fracking
credit: sarah craig faces of fracking
A fracking well in Ohio spilled radioactive oil and gas for over a week, harming fish and wildlife with what is called "produced brine."
The Ohio Department of Natural Resources confirmed that it was notified of the spill on January 24 but could not contain it until January 27. The "brine" is a salty byproduct of gas and oil production and it is radioactive with toxic metals and high levels of chloride.
The Buckeye Environmental Network is calling for the end of fracking and asking Ohio Governor DeWine to immediately issue a moratorium on the practice. We'll wait.
Today's Morning Show
Join me at 9 AM EST today to watch our morning show. Today we're looking at the growing chorus of Dems calling for $2,000 recurring stimulus until the end of this pandemic.
Click here to RSVP and set a reminder. See you in a few hours!
Share The Love
Become a friend of Morning Invest by sharing this newsletter with someone you love.
When you do give you actual rewards that'll make everyone jealous.