| TOGETHER WITH | |
| --- | --- |
Happy Thanksgiving.
This has been a difficult year for all of us. But I wanted to take a moment and thank all of you for allowing us to come into your home each day. Whether you read the newsletter or watch our live morning show or both, it means the world to us. Doing this show and writing this newsletter are the reasons we get out of bed in the morning. We are thankful for you. From the Morris family to yours, Happy Thanksgiving.
In Today's Newsletter:
Trump pardons more than a turkey

Covid-19 cases smash previous records

Unemployment numbers on the rise
In Case You Missed It
credit: ap
The reboot of Saved By The Bell premiered last night. Did you watch it? Me neither.
A man in Italy swallowed a AA battery and his heart scan showed abnormalities mimicking a heart attack but he did not have a heart attack. Don't eat batteries.
A convenience store chain in Pennsylvania will sell donut-flavored beer for the holiday season starting tomorrow.
778,000 people filed for unemployment last week for the first time, making it the second straight week of rising unemployment.
Famous Argentinian footballer Diego Maradona died yesterday at the age of 60.
Coronavirus Update: Total confirmed U.S. cases as of 1:30 p.m. ET Wednesday: 12,642,245 — Total deaths: 260,591 — Total recoveries: 4,696,664
CONFIRMING LOAN

Program

Rate

Change

APR

Change

30 year

2.86%

0.06%

2.97%

0.07%

15 year
2.68

%

0.14%

2.78

%

0.16%
Lead Story: Pardon Me?
credit: giphy
President Trump on Wednesday announced a pardon, not of the Thanksgiving turkey, but of his former national security adviser Michael Flynn.

The pardon ends a three-year legal battle with the Justice Department and the FBI after Flynn pleaded guilty to lying about conversations with a Russian ambassador. Flynn's actions were the impetus for the Special Counsel investigation and the firing of FBI Director James Comey. It set off a chain of events whereby many people were brought to justice for their involvement in the 2016 election, namely, Michael Cohen, Paul Manafort, Roger Stone, who was pardoned this summer, and others.

It is worth reading Andrew Weissmann's recent book, Where Law Ends: Inside the Mueller Investigation, to fully appreciate how the President dangled pardons in front of those being investigated in order to incentivize loyalty and impede the investigation. It is a disturbing and unprecedented thing to bear witness.
Until now, the President has not issued many pardons relating to his own investigations because of the optics leading up to the election. Now that he literally has nothing to lose, we predict more of these will come. Paul Manafort comes to mind as next in line.
Sponsor: HelloFresh
Want to save 40% on your grocery bill? Want delicious ingredients shipped right to your door? Want to prepare amazing meals in under 30 minutes? Want to get a coupon for $90 to try it out? Then you're in luck. You'll get free food with that link.
Introducing HelloFresh. Get fresh, pre-measured ingredients and mouthwatering seasonal recipes delivered right to your door, America's #1 meal kit. HelloFresh lets you skip those trips to the grocery store, and makes home cooking easy, fun, AND affordable.

The recipes are easy to follow and quick to make, with simple steps and pictures to guide you along the way. You'll save 40% off your grocery bill by using HelloFresh. The packing is all made from recyclable materials. They have multiple meal options for small and large families ranging from vegan to meat and everything in between.
Even if you don't like it you just got $90 dollars of free food delivered to your door because of Morning Invest. You have to use this link.
Spreading Misinformation
credit: business insider
The One America News Network has had its hand slapped by YouTube, suspending the channel for a week for a video that showed a fraudulent Covid cure.

OANN is the new media darling of President Trump and has lured away Fox News' viewers away with its willingness to broadcast any crazy thing that is favorable to the President and his supporters.

OANN's YouTube channel has been demonetized and will be prohibited from uploading any new videos for the next week. The network will have to re-apply for YouTube's Partner Program in order to profit from its channel again in the future and re-admittance is not guaranteed. YouTube said that OANN had reached its limit on warnings for violating policies on Covid misinformation and will receive a strike for any future violations. If they get three strikes, the channel will be terminated.
News By The Numbers
credit: mirror.uk
6. That is how many pregnant women a man brought to a wedding in Nigeria, claiming to be the expectant father to them all.
32,000. That is how many workers Disney said it will lay off in the first half of 2021, up from its original estimates of 28,000.
76,000. That is how many people could have their power turned off in Southern California today due to wildfire risks.
80,026,721. That is the current number of votes that President-elect Joe Biden received, becoming the first President in history to receive over 80 million votes. President Trump now holds the record for the second-most votes of all time with 73,890,295 as of Wednesday morning.
Amazon Fail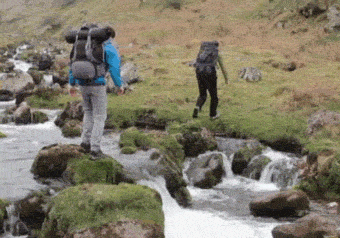 credit: giphy
Did you notice how many websites were down yesterday? That is because Amazon Web Services had a major outage.

Amazon hosts data for a large chunk of the Web in its cloud services. For instance, if you tried to log in to Snapfish to order holiday gifts (guilty), your login would not be accepted because AWS is the backbone to the user login function on the site. Similar things happened to Roku, Pocket, Flickr, Adobe Spark, etc.

This shows just how prevalent AWS is on the Web and how much data is hosted in the cloud. It's a little scary when you consider it.
A Message From The President-elect
credit: cnn
President-elect Joe Biden spoke from his home state of Delaware on Wednesday night to bring a comforting message of unity during an unusual holiday.

He pointed out that the first American Thanksgiving was a celebration of the harvest and preparation for a long, hard winter ahead and drew parallels to what we are currently facing. No doubt, we have a hard winter ahead too with a raging pandemic and political instability. The President-elect wanted to show optimism and empathy.
The President-elect said that his Thanksgiving table will include only his wife, Dr. Jill Biden, and their daughter and her husband.
Ending Violence Against Women
credit: reuters
Wednesday was International Day for the Elimination of Violence Against Women. The United Nations used the day to highlight how Covid lockdowns have exacerbated violence against women, with many women trapped indoors with their attackers.
In fact, domestic violence helplines have seen a five-fold increase in calls for help this year.
Demonstrations and awareness speeches took place in Turkey, Spain, Italy, Germany, and Portugal, where the OMA observatory monitors the killing of women and reports that 30 women have been murdered this year, half of them victims of domestic violence. If you or someone you know is suffering from this, please contact local authorities for help.
Share The Love
Become a friend of Morning Invest by sharing this newsletter with someone you love.
When you do, we don't just give you a pat on the back and say, "Well done old sport." We give you actual rewards that'll make everyone jealous.