TOGETHER

WITH
Happy Wednesday.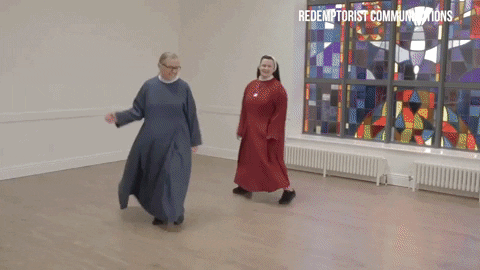 In Case You Missed It.

This group of Irish nuns is taking the internet by dance. They said they just wanted to try and cheer people up during this extended lockdown. Mission accomplished.
Hummer will reveal its all-electric SUV during the NCAA final on April 3.

Chipotle will start serving quesadillas tomorrow because it is their most-requested menu item. They have long-since been serving them in kids meals.

Piers Morgan will leave Good Morning Britain after he stormed off the set in a tantrum for being called out for his persistent harassment of Meghan Markle.
Legendary newsman Roger Mudd died yesterday at the age of 92. He's most known for his 7-word question of Senator Ted Kennedy who was mounting a presidential campaign in 1980. "Why do you want to be President?" Kennedy gave a rambling answer that effectively ended his chance to become President.

President Biden's dog trainer said that the White House was too overwhelming for the Biden dogs. Understandable.

Coronavirus Update:
Total confirmed cases as of 5 a.m. ET on Wednesday: 29,096,053 — Total deaths: 527,699— Total tests: 359,724,291
Alaska is offering the Covid vaccine to anyone 16 and older who lives and works in the state.
A new study shows that exposure to pollen can increase your risk of Covid infection. Just in time for spring!
Alcatraz will reopen next week after being closed to the public for a year.
Today's Live Show
FINALLY! STIMULUS DAY IS HERE WILL DEMS CAVE ON MINIMUM WAGE?
Join us on today's live morning show. Democrats will vote today to pass the $1.9 trillion dollar stimulus package. Next up is President Biden's signature. How soon will checks be sent? Click here to RSVP for our live show and I'll see you at 9 AM Eastern.
The Lead: Protecting Workers' Rights
labor leader AFL-CIO President Richard Trumpka credit: ap
The House of Representatives passed the Protecting the Right to Organize Act on Tuesday, a pro-union piece of legislation that the President supports. Democrats pushed the vote to pass in the House but it is unlikely to pass in the Senate.

This loggerhead will reopen the debate about the filibuster, which is currently the way that Senate Republicans can oppose bills that would otherwise pass with a Democratic majority. A member of the Senate can impose delay after delay to kill a bill and Republicans fought bitterly to keep this system in place after they lost majority representation. This is likely what will happen to the union bill in the Senate if something doesn't change.

If the bill did pass both houses – and that's a big if – it would give unions more power and extend union rights to independent contractors. Big business has spent millions to lobby against this bill, arguing that it will impinge workers' privacy and impede workers' communications and cost millions of jobs.
CONFORMING LOAN

Program

Rate

Change

APR

Change

30 year

2.91%

0.03%

2.97%

0.03%

15 year
2.25

%

0.04%

2.23

%

0.04%
Ain't That a Peach?
credit: getty
Georgia Republicans passed a bill to restrict mail-in voting. After record voter turn-out in the state during the 2020 election resulted in Democratic victories, Republicans obviously felt they had to do something about it.

Instead of allowing anyone to request a mail-in ballot, the bill restricts this to people who are over 65, disabled, or can provide a reason that they will be required to be away from their precinct around elections.

Georgia Secretary of State Brad Raffensperger said that a record number of mail-in ballots overwhelmed election officials in 2020, which is why this legislation is needed. So….we've got some time before the next election. Maybe instead they should ramp up staffing procedures rather than end voting access?
Sponsor: Get 2 Premium Free Stocks with Webull

March is here and just for our audience, Webull is extending their 2 free stocks promotion valued up to $1,850. Yes, you read that right. Right now you can get two free stocks valued up to $1850 just for opening an account with Webull.
You'll get the free stocks just for opening a free trading account with Webull and depositing $100 into the account to activate it. Remember you're not spending $100, you're simply depositing that money into your account. Don't forget to make that deposit in order to receive the free money. And right now Webull is giving away some premium stocks like Google and Apple.

Simply click here and start an account. Even if you never do anything else with the account you still get that free money.
With Webull you can invest in thousands of companies using their trading tools and analytics to create your own financial portfolio. And the best part is $0 commissions and no deposit minimums. I remember when I used to pay $6 per trade with some other companies. Not any more thanks to Webull.
Sign up today and get your free stocks. Thanks, Webull.
Cocaine Bear Goes To Hollywood
credit: kyforky.com
The term "cocaine bear" is trending on Twitter because Hollywood has given the green light to a movie about a bear that died of a cocaine overdose. It is a true story.
Spoiler alert
The story goes that in 1985, a drug dealer jumped out of a plane with a parachute and an enormous bag of cocaine from Colombia. He hit his head on the plane as he jumped so he was not conscious to open the chute. The bag of drugs plummeted with him as he fell to his death in a Georgia forest.

Along comes unsuspecting 175-pound bear. The poor beast ate $15 million worth of coke and it killed him too. Authorities later discovered the OD'ed bear with 40 empty packets of cocaine. The dead smuggler was found in a neighborhood driveway wearing night-vision goggles, a bulletproof vest, and Gucci loafers. He had several weapons and $4,500 in cash on his person. The unoccupied plane crashed in the mountains and it took months to find all the drugs that rained from the sky as a result.

The bear was stuffed and named Pablo Escobar. It is a tourist attraction in Kentucky.
Actress and director Elizabeth Banks will direct the movie. How's that for a plotline?
Hope we didn't give too much away!
Cannabis' Carbon Footprint
credit: getty
The carbon footprint of the cannabis industry is quite large and growing. A recent study published in the journal "Nature Sustainability" analyzed indoor growing operations in the U.S. and tallied up the resulting greenhouse gas emissions.

The majority of the carbon footprint from cannabis growing comes from climate control and grow lights, all from indoor facilities meant to accelerate plant growth due to increased demand. In Denver alone, this accounts for between 1 and 4% of the city's electricity consumption.

The researchers are concerned that this will get worse as more and more states legalize marijuana and are calling for legislation to help curb it before it really takes its toll on the planet.
News By The Numbers
credit: podnews
47%. That is the percentage of people who think "subscribing" to a podcast costs money. That is why Apple is changing the language in the Apple Podcasts App from "subscribe" to "follow." Either way, podcasts will remain free. Did you know we have a daily Morning Invest podcast? Yes! You can "follow" us right here. Free as always!
142,809. That is how many viral species live in the typical human gut. These are not bad viruses but often helpful ones, many essential for basic bodily functions, but scientists are unfamiliar with the majority of them.

300,000. That is how many Venezuelans are eligible for protected status after the Biden administration extended protection status for those who have fled to the U.S. seeking asylum.

91 years old. That is the age of the oldest police officer in Arkansas. He retired for five months and didn't like it and has no plans to do it again.
Myanmar Meets The Press
credit: reuters
Everyone wants good press, even the Myanmar military junta that took over the government. The junta has hired a lobbyist firm to "assist in explaining the real situation" of the coup to the U.S. and other countries. The firm will be paid $2 million for this job.

How does one explain the death of dozens of protestors? The arrest of 1,900 people? The imprisonment of peaceful leaders? The owner of the lobbyist firm told Reuters that he was "tasked with convincing the United States that Myanmar's generals wanted to move closer to the West and away from China."
That might not be the way to make friends. The U.S. and the European Union have sanctioned the junta and condemned the movement.

Meanwhile, the military is surrounding railway workers who are on strike to oppose the coup. Workers fear that their arrests are next.
Share The Love
Become a friend of Morning Invest by sharing this newsletter with someone you love.
When you do, we don't just give you a pat on the back and say, "Well done old sport." We give you actual rewards that'll make everyone jealous.