| TOGETHER WITH | |
| --- | --- |
Good Morning: I hope you had a great weekend. It felt like it was the last weekend of the Summer. Even though it's not. Does that ever happen to you?
In Case You Missed It: The biggest sporting event of the year took place last night in Lisbon. Bayern Munich defeated PSG and are waking up the champions of Europe this morning for the sixth time.
A second-half header from Bayern forward Kingsley Coman was the difference after a tight game between the champions of France and Germany respectively.
Now let's see if the NFL can pull off a season and a Super Bowl.
Coronavirus Update: Total confirmed U.S. cases as of 3 a.m. ET: 5,703,561 — Total deaths: 176,808 — Total recoveries: 1,997,761
Florida surpasses 600,000 confirmed coronavirus cases
In Today's Newsletter:
The states with the most growth
Kellyanne out at the White House
Abandoning New York
CONFIRMING LOAN

Program

Rate

Change

APR

Change

30 year
3.17

%

0.01%

3.24

%

0.01%

15 year
2.81

%

0.05%

2.95

%

0.05%
The Lead: States Hitting a Growth Spurt
credit: zillow
Idaho has seen a 194% gain of residents since the pandemic began. Idaho had already been growing steadily from fleeing Californians but the pandemic has pushed more people across state lines than ever before.
According to data from HireAHelper, which measures people looking for movers, the following 9 states have had an influx of residents: Idaho, New Mexico, Delaware, South Carolina, Maine, Kentucky, Arizona, Oregon, and North Carolina, in that order.
Could it be a coincidence that these are tax-friendly states? Note, extreme use of sarcasm here.
Sponsor: Morris Invest
We all know real estate investing is the number one way to build wealth but many people don't know how to get started. Enter Morris Invest, a full-service real estate investing team. After you book a 30-minute call with Morris Invest they'll build a customized approach to buying your first rental property. And before you ask, yes they have financing built right in.
You can even use part of your IRA or 401K plan to use as a downpayment. There are endless ways to get started.
Imagine creating monthly cash flow from a new construction rental property. You can because the tenants are already living in the property and fully managed by their great property management teams. Visit their website today and see what Morris Invest can do for you. They've got a great video on the front page too!
Kellyanne Says Goodbye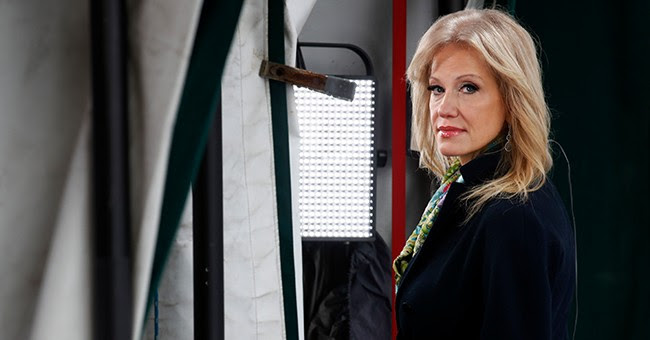 credit: AP Photo/Jacquelyn Martin
White House senior adviser Kellyanne Conway says she's leaving her post as Trump's mouthpiece to spend more time with her family. On Sunday night, Conway made the surprise announcement that she's leaving the White House at the end of August, to make more time for family.
Earlier on Sunday, Conway's husband George announced he'd be leaving the anti-Trump political action committee The Lincoln Project for the same reason, to focus on their four children.
News By The Numbers
credit: Dylan Bouscher/MediaNews Group/The Mercury News via Getty Images
1 million. A massive wildfire ravaging Northern California claimed another life on Sunday, as hundreds of blazes burn across over 1 million acres of the state in a natural disaster that's seen over 100,000 people placed on evacuation orders.
57%. That's the percentage of Republicans that feel the coronavirus death toll is acceptable. A majority of Republicans said that the number of coronavirus deaths in the U.S. — now topping 176,000 — is "acceptable," according to a poll released Sunday. Among Democrats, 10 percent said the coronavirus death toll in the U.S. was acceptable.
5 million.That's how many laptops we're short in the U.S. as kids returning to school virtual school. The three biggest computer companies in the world — Lenovo, HP and Dell — have told U.S. school districts they have a shortage of nearly 5 million laptops due to supply chain disruptions and sanctions on China. Once again the kids get screwed.
California Digs for Gold
California has been approved for $4.5 billion in unemployment aid from the Federal government. The state has told residents that it will be able to pay their additional $300 per week in unemployment benefits but it is not sure when.
President Trump's recent executive action said that unemployed people could receive an additional $300 per week but a good bit of that bill would be paid for by individual states. Each state had to scramble to find a way to pay for this so residents have to keep an eye on their employment department to see if and when they can pay this.
California's application to the Lost Wages Assistance Program was approved and the first round of funding for $4.5 billion will be along shortly, with the possibility of more to come. Let's just hope they don't send a check in the mail!
New York City Goes to Sleep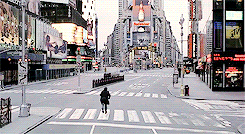 credit: giphy
Moving companies in New York City are having to turn down business because the city exodus rates are so high. Vacancy rates for city apartments are at an all-time high as many residents have left the city that never sleeps for good.
Although New York did a great job fighting its massive COVID outbreak, many residents fled the city with no plans to return. There are more than 13,000 available apartments currently listed.
Teleworkers who formerly had to report to an office have come to see the light: that they can do their jobs in an affordable place and not deal with high rents, taxes, and crowded subway commutes. Broadway is no longer an attraction as all shows are shut until at least January. And winter is coming, which is a time when fewer people move into the city in a normal year.
So what will become of the Big Apple? Demographers are hoping a fresh round of immigrants will help revive the population – people raised in places like Ukraine and Natal and have a love of American culture.
Immigrants. They get the job done.
Not Always Sunny in China
credit: getty
China's largest banks are expected to report the first profit drop in a long time due to the pandemic. This is in part due to government pressure to help small businesses.
While Chinese banks have had it good in recent years, the government in June asked them to help struggling businesses by sacrificing approximately $212 billion in profit by way of lowering lending rates and fees and deferring loan payments. And when the Chinese government "asks" something, it's not really asking in the normal use of the word. As a result, the banks will post a 9.4% fall in profit from the first half of the year.
Share The Love
Become a friend of Morning Invest by sharing this newsletter with someone you love.
When you do, we don't just give you a pat on the back and say, "Well done old sport." We give you actual rewards that'll make everyone jealous.