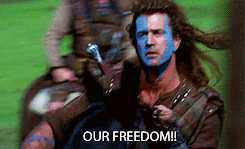 Scotland may try to leave the United Kingdom again. Prime Minister Nicola Sturgeon says that she will push to issue a referendum, which will give Scots the opportunity to vote on the matter.
Recall that Scotland tried that in 2014 and the proposal was voted down. Scotland did not however vote in favor of Brexit and they have suffered the consequences. Scotland wanted to stay in the European Union and, if the country votes for sovereignty, it may try to re-join.
Current polls show that Scots highly favor leaving the UK. Sturgeon says that she wants to schedule the vote after the pandemic, whenever that will be.
So then we need a clever name! We had Brexit. We had Trump-exit, which was what some countries called their influx of American citizens who left the U.S. under the Trump Administration. So what would we call this one? Scotexit? Clanexit? Scot-egress? Lad and lass withdrawal? Highland Hightail? Sassenach ditching? None of these have quite the right ring. We're open to your ideas!