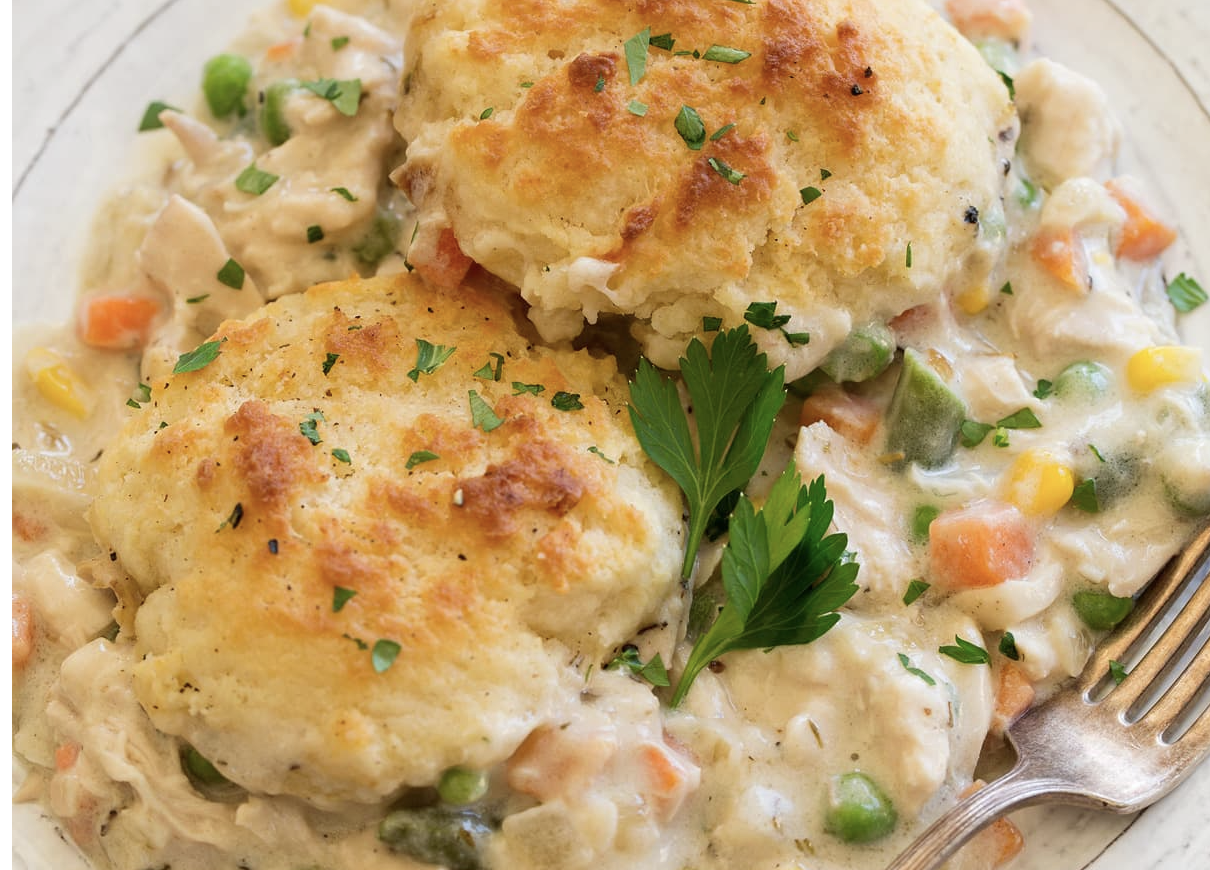 One of our longtime Morning Invest readers Amy Perkins wanted to share her amazing Chicken Pot Pie recipe with our audience. So she sent me (Clayton) the recipe after hearing us talk about my love for this dish on our morning show. With her permission I'm sharing it here for all of you to enjoy this holiday season.
Here's Amy's recipe:
Boil 3-4 boneless, skinless chicken breast. After cooking, shred meat and set aside.
In skillet, melt 1/2 teaspoon of butter. Saute a small, yellow onion and 2 celery stocks (cut until 1/4″ pieces) until translucent. DO NOT DRAIN BUTTER. Set aside.
In crock pot, add 2 large cans of cream of chicken soup.  (Or preferably boxed soups since cans have a chemical called bisphenol which is toxic and is a known endochrine disruptor so try to avoid anything in a can if possible. You can read more about the toxicity of bisphenol here.)
To the soup, add 2-3 carrots fully sliced (depending on preference), 2-3 potatoes cubed and diced, and 2 cups of peas.
Add meat, onions, and celery to the soup. Season to taste.
Cook on medium low for 6-8 hours, stirring approximately every 45 minutes.
Make homemade biscuits or store bought. Lay on baking sheet and brush tops with small amount of butter. Bake.
Scoop soup mixture over top biscuits and enjoy!!!
A few tips from Amy: 
1) I do not use frozen veggies in this recipe because of the water they hold. It makes the soup mixture too runny instead of thickness pot pie should be.
2) When seasoning, I use pink Himalayan sea salt, fresh cracked pepper, a little garlic powder, and cajun seasoning. This adds the perfect amount of "kick" to the pot pie without it being overpowering. But the seasoning is really personal preference.
3) This recipe WILL freeze. If you are anything like me, I like to freeze several meals during the winter to have ready for those days when it is cold and I don't feel like cooking. When reheating, just warm up on the stove. You may have to add 1 tablespoon of corn starch or a little flour to thicken it back up after freezing though.
It is a quick recipe for people who love home cooked meals but don't have the time to spend hours cooking.
Thank you!
Amy