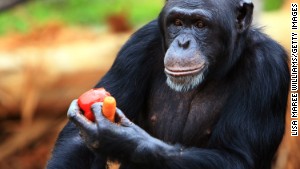 Researchers from the Ozouga Chimpanzee Project observed for the first time chimpanzees give themselves and each other insect meds. Doctoral student Lara Southern sets the scene for us:
"An adult male, Littlegrey, had a deep open wound on his shin, and Carol, an adult female, who had been grooming him, suddenly reached out to catch an insect," Southern said in a statement. "What struck me most was that she handed it to Littlegrey, he applied it to his wound and subsequently Carol and two other adult chimpanzees also touched the wound and moved the insect on it. The three unrelated chimpanzees seemed to perform these behaviors solely for the benefit of their group member."
The fact that the chimps appeared to be tending others could be proof that chimps exhibit prosocial behavior (helping others), if not empathy. This is a hotly debated subject in the animal behavior world.
Also–tell us more about these bugs, chimp friends! Researchers are hoping they can identify the insects and investigate whether they actually have healing properties (vs. a placebo). Don't be surprised if insects are the herbal tea of the 2030s.