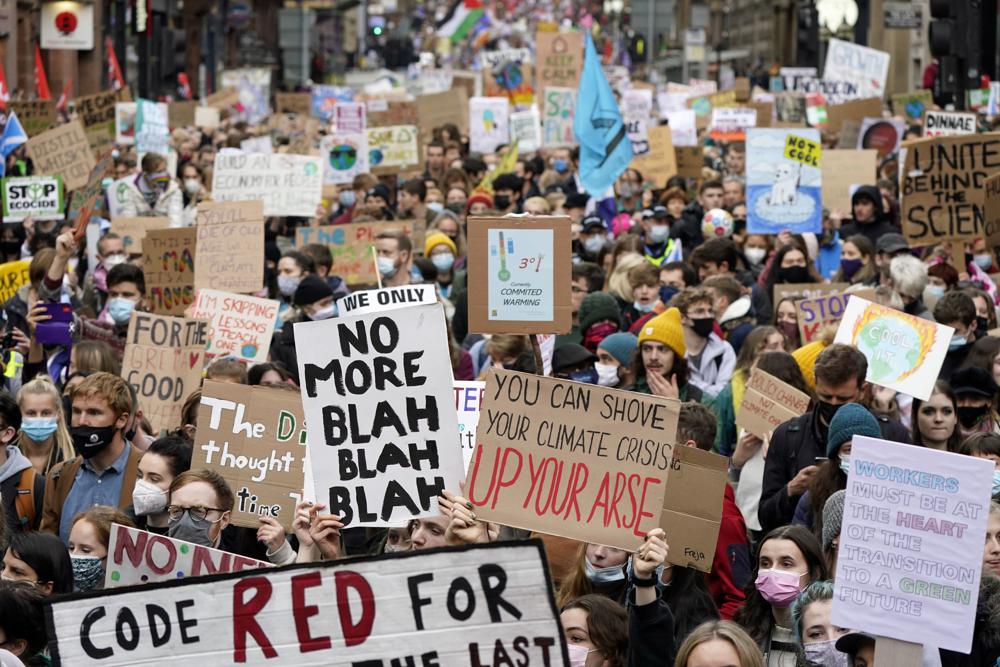 Thousands of young activists made their way to COP26 on Friday. They showed up and showed out in Glasgow for a march to protest complacency and "blah blah blah" in the face of the climate crisis.
"We are unstoppable, another world is possible," the protesters chanted. Signs included:
"I have to clear up my mess, why don't you clear up yours?"
"Our parents will die from old age. Our children will die from climate change."
"Stop climate crimes."
18-year-old climate activist and warrior Greta Thunberg spoke at the end of the march. "It is not a secret that COP26 is a failure. It should be obvious that we cannot solve a crisis with the same methods that got us into it in the first place," Thunberg said. "The COP has turned into a PR event, where leaders are giving beautiful speeches and announcing fancy commitments and targets, while behind the curtains governments of the Global North countries are still refusing to take any drastic climate action."
Friday's theme inside COP26 was "youth and public empowerment," but as the AP pointed out, "on a day dedicated to young involvement, the midday highlights were a speech by 73-year-old former U.S. Vice President Al Gore and a news conference by 77-year-old John Kerry, the U.S. climate envoy."
Game, set, match, Thunberg.
Many of the same protestors joined a 100,000-person-strong rally the next day, part of the 'Global Day of Action for Climate Justice.' Similar protests occurred across the world, in places like Uganda, Switzerland, Germany, Bangladesh, and India, as the next generation fights to have a generation.