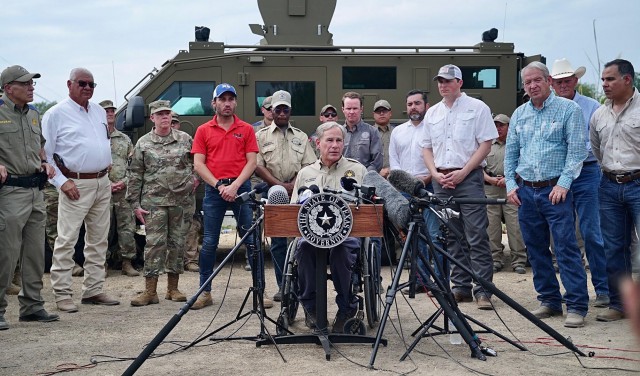 Texas Governor Greg Abbott is testing the limits on state authority.
Never one to shy away from laws that push the boundaries of equal rights and humanity, Abbott's latest moves on immigration and abortion could be a sign of what is to come in a post-Roe United States.
Immigration
Texas authorities can now return immigrants they apprehend to the border, according to a recent executive order from Gov. Abbott. Enforcing immigration law is a federal responsibility, and this order comes close to stepping over that. Aaron Reichlin-Melnik, policy director for the American Immigration Council, told the Texas Tribune that the order "deputizes state authorities to arrest migrants for federal immigration violations, which the U.S. Supreme Court has said is a federal responsibility."
It is also not clear what state authorities will do once they get immigrants back to the ports of entry, which are run by the feds. Experts say this order is ripe for a lawsuit from the Justice Department.
Abortion
Not if Texas sues them first! Which they are doing.
The state sued last Thursday to block the Emergency Medical Treatment and Labor Act, which mandates all hospitals give emergency treatment to patients. The Department of Health and Human Services released guidance last week that explicitly said this includes abortion, even if it's not legal in the state.
Texas says that goes against what SCOTUS ruled in Dobbs and contradicts Texas' near-total ban on abortion after fertilization, set to go into effect this month.
The Emergency Medical Treatment and Labor Act requires hospitals to provide emergency treatment regardless of the ability to pay, defining emergency as a life-threatening medical condition or a condition presenting the risk of "serious impairment to bodily functions, or serious dysfunction of bodily organs."
Interestingly, Texas' abortion law ban has an exception when pregnancy threatens the life of the mother or has a "serious risk of a substantial impairment of a major bodily function."
Are these not the same thing? No one wants anyone to die, right? But if physicians are afraid to violate law, death can happen. Hence the HHS guidance. The Texas Medical Association said last week that some hospitals have denied care for serious pregnancy complications because they were afraid. But no one wants anyone to die, RIGHT???
Texas wants to assert its state authority with abortion, immigration, and more. Is this the new 'normal' in a post-Roe U.S.? Or is Texas laying the groundwork for secession? The GOP has specifically said that they want a vote on this so it wouldn't be surprising.