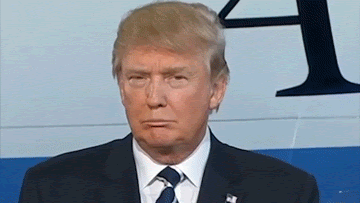 Deutsche Bank and Signature Bank have both cut ties with President Trump over his involvement in the Capitol riots. That's nice of them to say but the President has millions of dollars in loans. What will happen to those loans?
According to Bloomberg, President Trump owes more than $300 million to Deutsche Bank. With Signature Bank, he has two accounts with approximately $5.3 million. The cash in one won't cover the loan to the other so what happens when a bank closes your accounts with high-balance loans? Banks have struggled with this question for some time, especially when there was a prospect of Trump getting reelected. Can you foreclose on a sitting President? We won't know the answer to that since Trump was not re-elected but how far will Deutsche get foreclosing on those loans on him now? This could get interesting.
And while we are following money trails, Disney and Walmart have both said that they will not donate money to any lawmakers that objected to certifying the Presidential election last week. They join the ranks of Best Buy, Coca-Cola, JPMorgan, and others doing the same thing and drying up their donations to politicians who sought to undermine the capitalist democracy that these companies rely upon for their own wealth. So this self serving or altruistic? You decide.