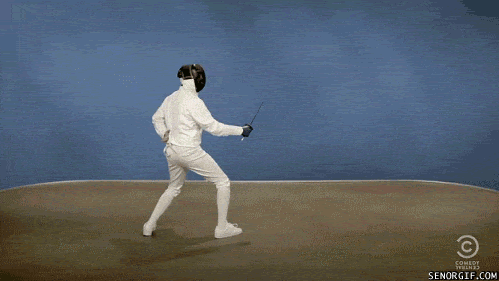 Fencing is cool again. Apparently, it had become a bit of a snooze. I wouldn't know.
A new rule in competitive fencing is called the "Unwillingness to Fight" rule. It means that fencers cannot fool around and avoid combat while running out the clock like they used to. This rule came after one painfully dull match in which the fencers stood there looking at each other for over 4 minutes because that was allowed.
The new rule dictates that if one minute passes without combat, the fencer behind the yellow line receives a yellow warning that could lead to a red if the inactivity continues.
Now they have to actually get in there and swing their weapons at one another and the change has made new fans of the sport! This year's Olympics is the first time this rule has been in effect. En Garde!