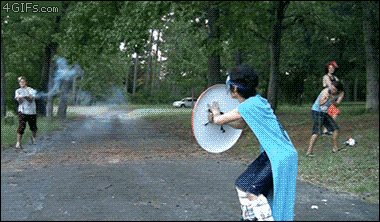 "Is throwing lit objects up into the sky in the height of the fire season the best thing for us to do?"
That's what Andy Chapman rhetorically asked his colleagues who run the fireworks display for Incline Village, Nevada. In the Western U.S., with its historic drought conditions, caution has reached a peak in these climate crisis times. If anyone forgot the danger, New Mexico is currently going through a horrible reminder with the largest wildfire in the U.S.
So fireworks might not be a great idea for the upcoming Independence Day celebrations in the country. Sure, they're heavily monitored, but so was the planned burn that started the flames in New Mexico.
Stay home on July 4th? NEVER. But the U.S. always has alternatives for overblown productions. The drone trend is here and ready to serve. Instead of the ear-splitting boom of fire sprinkling through the air, drone shows consist of lit flying objects changing positions and colors to form different designs. All to music, of course.
This sounds very cool, better for the environment (and ears), won't scare your dogs and they are MUCH safer. However, we're talking $$$. Drone show company Verge Aero charges $25,000 minimum. Small fireworks shows are typically $15,000 to $20,000.
Wait… WHAT??? Maybe we should revisit that staying home idea.