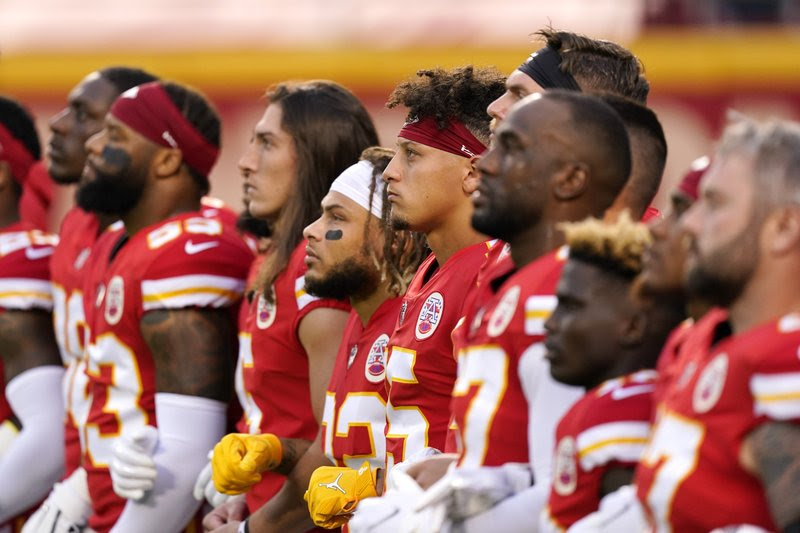 Today is the first full Sunday of The National Pandemic Football League and if Thursday's Chiefs / Texans kickoff game was a preview then we're in a for a long season trying to navigate this new normal.
The controversy erupted Thursday night just moments before the league's 101st season kicked off. After the Houston Texans remained in the locker room during the national anthem, fans booed them when they emerged from the tunnel at its conclusion. The booing kept going as the two teams walked to midfield and shook hands. Then they joined arms and stretched from end zone to end zone in a show of unity. It was supposed to be a moment of silence but the scant audience continued to boo. It got so bad that NBC silenced the microphones to make it appear as if there truly was silence.
Controversy
New York Jets offensive tackle George Fant praised the Chiefs and Texans for taking a stance during a Zoom call with reporters in which he only took questions about social justice.
"We just want to be treated equally," he said. "Everyone needs to be treated the same. Everyone needs to be held accountable. And for people to boo? It's unbelievable."
Ratings
Ratings dropped about 11% over last year's Green Bay Packers-Chicago Bears opening game of the 2019-2020. Interestingliy though more people than ever streamed the game instead of tuning into NBC. In fact digital streaming increased 55% over last year.
What's next?
All eyes on Brady and Brees tonight at 4:25 p.m. ET on Fox.
Not only will this be the first matchup in NFL history between two starting quarterbacks over the age of 40 — Brees is 41, and Brady is 43 — but they rank first and second in all-time passing touchdowns and passing yards, respectively. They have thrown for a combined total of more than 86 miles.
If ratings for this game fall flat then the NFL is in for a long season.