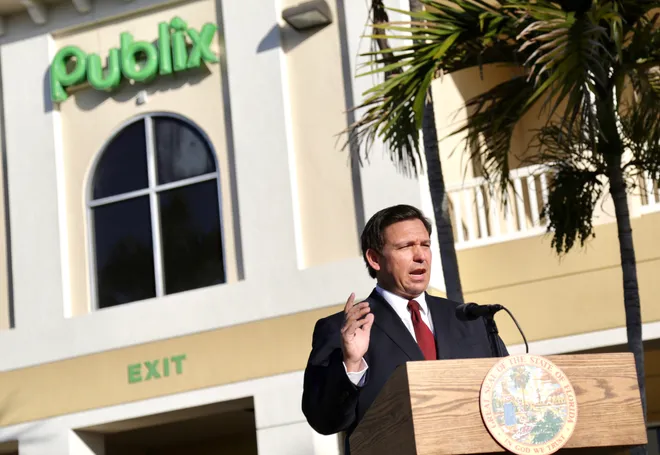 Florida Governor Ron DeSantis is on the ropes today after "60 Minutes" exposed the state of vaccine rollouts in Florida.
Public records show that the grocery chain Publix donated $100,000 to the Governor's Political Action Committee (PAC) called "Friends of Ron DeSantis." The family that owns the chain has also recently donated hundreds of thousands of dollars. Shortly after those donations in December, the Governor announced that Publix would be the exclusive vaccine distribution site in Florida.
Which is alright for Publix! "60 Minutes" points out that "under federal guidelines, Publix can charge Medicare $40 per shot to administer the vaccine." Even if it is free to recipients.
The problem is, most minority and poor communities have no Publix stores. Publix is an upscale grocer with high-end products that are largely out of reach for poor people.
When asked about this, Governor DeSantis got prickly.
"It's wrong, it's wrong, it's a fake narrative. I just disabused you of that narrative. You're wrong, you're wrong, you're wrong," he said.
Is he 7 years old? 
In another wealthy community, the governor rolled out thousands of vaccines to seniors after the community developer donated $135,000 to the same PAC. When questioned about this the governor threatened to end the program.
"If Manatee County doesn't like us doing this, we are totally fine to take this vaccine and put it in counties that want it."
State Democratic leaders are calling for the Justice Department to investigate this pay-to-play scenario which has allowed wealthy people access to vaccines and wealthier people to profit from it while poor and minority communities are left out.