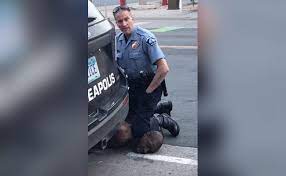 Two years ago today, a Minneapolis police officer knelt on George Floyd's neck for 9 minutes and 29 seconds and killed him. The other officers at the scene did not stop it.
Where is the U.S. today? Every officer involved was found guilty, but the police violence has not stopped. Calls for defunding and abolishing the police have been silenced and lessons on systemic racism–which could help inform young minds for a better future–are getting banned in schools.
A new policy from the Department of Justice offers a glimmer of… something, at least. After 18 years, the DOJ has finally updated its use of force policy to explicitly say federal officers and agents must intervene if other officers are using excessive force.
The DOJ also banned the use of chokeholds and carotid restraints last September, "unless deadly force is authorized." So that's something, too. Has the training on when that deadly force is, in fact, authorized gotten better?
Maybe.
Most things look the same two years after George Floyd was murdered, despite the so-called "racial reckoning" his death sparked. They look the same three years after Breonna Taylor, six years after Philando Castile, seven years after Freddie Gray, and eight years after Michael Brown and Tamir Rice.
Will the DOJ policy update put a dent in all this violence?
Maybe.