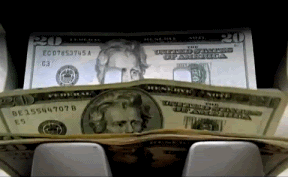 Have you noticed that the piddly little interest rate on your savings account is even more piddly lately? That is because banks have lowered interest rates this year even as consumers continue to make large deposits into their savings accounts.
Last year, US consumers put approximately $13.2 trillion into savings accounts. This year, that number will be closer to $15.9 trillion. Clearly, we are all worried about the economy and trying to save up for a rainy day. Er, rainier day.
Banks typically lower savings interest rates when the Federal Reserve lowers rates, which it has. But this increase in deposits and a decrease in interest rates could mean big profit for the banks. They are allowed to lend out 90% of every dollar deposited in their coffers. This means that they are using your money to make interest on loans but not paying you very much in return. But loan applications have leveled off so they are not lending as much as they'd like. Still, they're happy to accept those deposits!