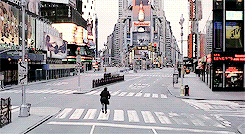 Moving companies in New York City are having to turn down business because the city exodus rates are so high. Vacancy rates for city apartments are at an all-time high as many residents have left the city that never sleeps for good.
Although New York did a great job fighting its massive COVID outbreak, many residents fled the city with no plans to return. There are more than 13,000 available apartments currently listed.
Teleworkers who formerly had to report to an office have come to see the light: that they can do their jobs in an affordable place and not deal with high rents, taxes, and crowded subway commutes. Broadway is no longer an attraction as all shows are shut until at least January. And winter is coming, which is a time when fewer people move into the city in a normal year.
So what will become of the Big Apple? Demographers are hoping a fresh round of immigrants will help revive the population – people raised in places like Ukraine and Natal and have a love of American culture.
Immigrants. They get the job done.