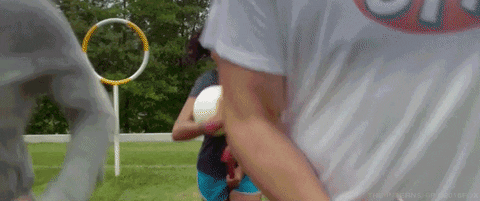 Quidditch is a game for wizards. Quadball is now a game for muggles (non-magic folk).
Quidditch was made up by author J.K. Rowling in her Harry Potter novels. In recent years, muggles have been playing it in serious competition, only on the ground because muggles can't fly. (Also, the snitch is a person?)
Now the muggles that run the U.S. Quidditch and Major League Quidditch leagues have renamed their sport to Quadball. The group said last December that they would be seeking (get it!?) a new name for the sport due to controversial opinions by Rowling.
There are four balls in quidditch/quadball. Rowling named them: the quaffle, two bludgers and a snitch. The muggles say that they will keep Rowling's naming of the balls for now but that could change.
Maybe if they're distancing themselves from the wizarding world, they don't need the non-flying brooms/sticks between their legs while running at full force because that seems really dangerous.