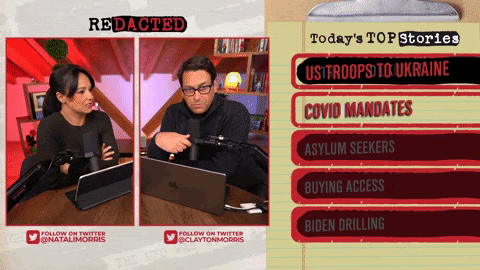 Once again our YouTube show has been flagged and put on pause because of asking questions about the war in Ukraine. This means we cannot post new videos for two weeks on YouTube. Thankfully, we have been steadily building our audience on Rumble and we will continue to broadcast there.
The video that YouTube takes issue with can be found on Rumble here. It had over 400,000 views which YouTube did not want to allow. In it, we showed reports from credible, award-winning journalists showing Ukrainian people reporting being terrorized by the Azov battalion, which is part of the Ukrainian military. We let Ukrainian victims speak for themselves.
The video also shows Ukrainian citizens who support the Russian military as some do. This does not mean that they are right any more than those who oppose Russia are. This means that war is more nuanced than a 240-character Tweet or Ukrainian flag avatar. Is that hate speech? It is clearly speech that YouTube hates.
We would like to draw your attention to this video in which we interview a Canadian journalist who has been put on a kill list for broadcasting these atrocities from Ukraine.
We have been accused of being pro-Putin for asking these questions and pointing out inconsistencies in the Ukrainian government's stories that accompany pleas for more money and weaponry. We are pro-Nobody Dying but that view gets deplatformed.
Current reports show that hundreds of civilians were evacuated in a temporary ceasefire while Russian forces advanced on a steel factory in the city of Azovstal. Some were safely evacuated and, according to The Hindu, some "voluntarily" chose to stay.
As with a lot of the information, exact numbers and facts are hard to verify, which is why we should be allowed to "see" all angles to discern for ourselves.
The marketplace of ideas continues to be perverted and thwarted but we make this pledge to you: We will continue to show up, ask uncomfortable questions, be open to all sides, be willing to admit when we are wrong and study everything we can in the quest for context and truth.