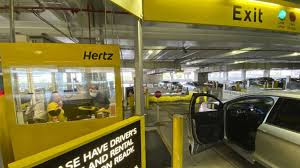 If you are thinking about traveling this summer, book your rental car now. Rental companies have a shortage of cars to rent because they sold off a large portion of their fleet during the pandemic.
They had to do this to avoid the expense of maintenance and insurance, as well as to bring in some cash when they were not making any money. Hertz reported a 46% drop in revenue last year but now, travelers are coming back and they can't build their fleet back up fast enough. Both Hertz and Avis confirmed that the car shortages are expected to continue for the foreseeable future.
In other travel news, American Airlines says that it is expected to operate a "nearly normal" schedule this summer with many routes coming back domestically and between the U.S. and Mexico and Canada. Planes are being booked to 90% capacity domestically and 80% capacity internationally.
United says that it will help mitigate crowds by no longer boarding planes from the back because that causes people to gather at the gate. Now it will board in groups of five people in two lanes. That should also reduce the mad rush mentality so hopefully this method is here to stay.