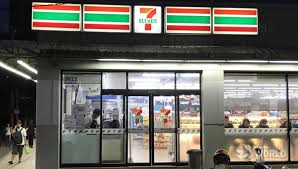 Would you want to camp out in a 7-Eleven? Who wouldn't!? The convenience store is putting a new Dallas location up for overnight rental on Airbnb.
The lucky customer who snags this will get to stay overnight in a store outfitted with what they are calling a PlayStation 5 "Gamer's Paradise." You will get all the Slurpees you can drink! My stomach hurts just typing that. And access to snacks from Doritos, Laredo Tacos and more.
Only two people can stay each night for only one night at a time. It will cost $11 per person per night.
Incidentally, the convenience store was born in Texas. Ice docks used to be big business before mass refrigeration but people did not want to patronize them in the brutal heat of summer. One man extended hours at his ice docks from 7 a.m. until 11 p.m. so that customers could come when the blazing sun was not in the sky and his customers were grateful. One night a customer said that she wished the ice docks also sold bread, eggs, and milk and the man decided to try it. Thus the birth of the convenience store! This and many other interesting facts about the American supermarket can be found in the recent book, "The Secret Life of Groceries." Highly recommended reading!