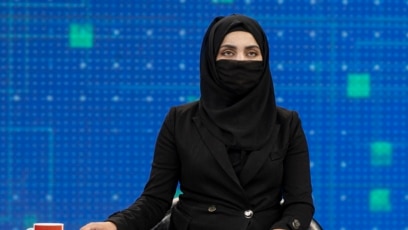 The Taliban is erasing women from Afghanistan. But some who can are fighting back.
On May 9, women in the country were ordered to cover their faces in public and to stay inside if possible. A few weeks later, the Taliban's Ministry of Vice and Virtue told female television presenters they had to cover up on-air too, saying "the decision was final and that there was no room for discussion."
Male journalists protested on the air, wearing masks during programming to express solidarity with the female journalists. This set off a social media campaign, with men posting photos of themselves in masks with the hashtag #FreeHerFace.
According to Human Rights Watch, "This latest order is part of [a] steady flow of Taliban actions that have blocked girls' secondary education, pushed women out of most employment, curtailed women's freedom of movement, obstructed women's access to health care, and abolished the system designed to protect women and girls from violence."
Afghan women need more than solidarity, but this is a step. And possibly a significant one. As one women's rights activist wrote, "Afghan men showing up for Afghan women is not just a gesture. It's a turn in the story that will change everything. Bravo brothers."