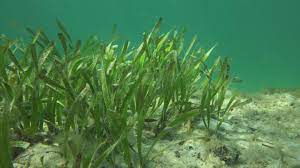 Seagrasses are the only flowering plants that grow entirely underwater. But that's not the only way they make the ocean sweeter.
Scientists in Germany recently discovered that the soil beneath seagrasses holds sugar. Lots of it. 80 times more than has been found in other marine environments. About 32 billion Coca-Cola cans worth of sugar.
Seagrasses produce sugar during photosynthesis, and if there's any excess, they drop it into the soil. This is why the plant can store so much carbon dioxide. And it makes the fact that seagrass habitats are one of the most threatened in the world (due mainly to humans) all the more terrifying for its climate implications.
Manuel Liebeke, head of the Research Group Metabolic Interactions at the Max Planck Institute for Marine Microbiology, which ran the study, said, "Looking at how much blue carbon – that is carbon captured by the world's ocean and coastal ecosystems – is lost when seagrass communities are decimated, our research clearly shows: It is not only the seagrass itself but also the large amounts of sucrose underneath live seagrasses that would result in a loss of stored carbon."
We're talking the levels of carbon dioxide emitted by 330,000 cars here. Save the seagrass!