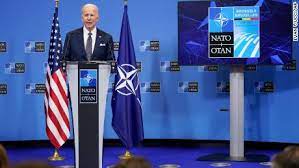 The U.S. and European Union announced a deal to reduce the E.U.'s dependence on Russian oil for the next year and reduce dependence on oil at all in the future.
Why did the E.U. need the U.S. to help them figure this out? Dunno. The White House press release says that the U.S. will "maintain its regulatory environment with an emphasis on supporting this emergency energy security objective." So the U.S. will keep track of who Europe makes deals with to make sure that they are approved.
Food supply
President Biden warned that food shortages and price hikes are "going to be real" due to Russian sanctions and the war in Ukraine. Note: Spring is a good time to plant some food!
Meanwhile, NATO continues to take orders from Ukraine for more weaponry. President Zelensky asked for 1% of all planes, tanks, whathaveyou. "We cannot buy it," he said. So just hand it over. Western nations have been towing a fine line between sending help and being diplomatic. The line gets finer every day.