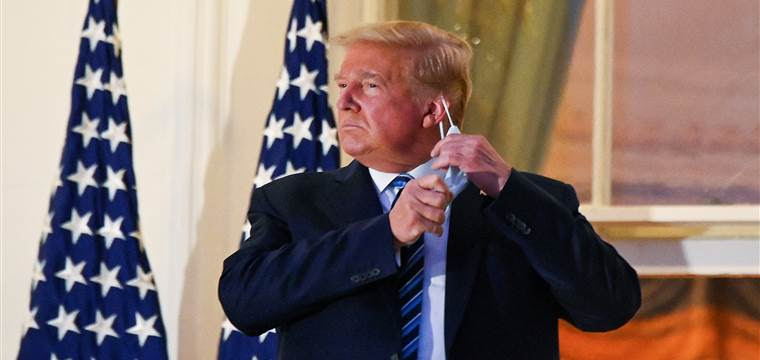 President Trump was released from the hospital on Monday, just three days after being hospitalized for Covid. He insists that he is improving, even claiming "maybe I'm immune." But his doctors insist that he "may not be out of the woods yet." He will continue his care at the White House for the foreseeable future, but you wouldn't know it from his videos and photo ops.
The President posted a video of himself back at the White House, admonishing people not to be afraid of the virus that has killed over 210,000 Americans. He says not to "let it dominate your life." So the people who died from this virus or suffer lasting ill effects allowed it to dominate their lives? If only they'd had the President telling them not to!
Other staff
Meanwhile, Press Secretary Kayleigh McEnany tested positive for Covid and will be working from home for the foreseeable future. She is the umpteenth person from the White House to test positive…honestly, we've lost count. The White House currently has more Covid cases than Taiwan, New Zealand, and Vietnam combined, which imposed strict mask and distancing requirements. Yet the White House has decided not to do any contact tracing from the Supreme Court nomination event that left so many Covid positive.
Now we're on the watch to see how the President can follow quarantine protocols, which he already broke over the weekend. The First Lady, who is also infected, has been far more reserved, reportedly refusing to visit her husband in the hospital because she did not want to expose the Secret Service agents designed to protect her. Looks like the President needs to teach her how to not let it dominate her life.