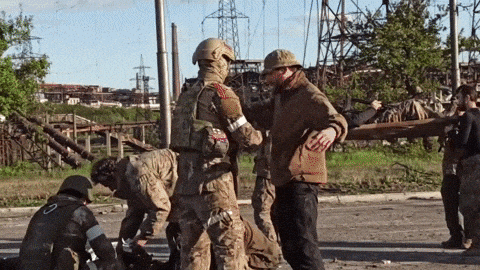 The battle in Mariupol seems to have ended with Ukrainian neo-nazi Azov forces in retreat. The news media has a battle of semantics over how this went.
Russia says that Ukrainian forces have "surrendered." Ukraine says that its forces "evacuated." Potato potahto but when you're captured by an opposing army that's called surrender.
No matter the words you use, Ukraine will no longer defend this city. Any Ukrainian soldiers left in the area will be exchanged for Russian prisoners of war captured in Kiev. No details of this exchange have been announced.
The Wall Street Journal admits that Mariupol is "too dangerous and remote for many journalists to document the conflict in real-time." Perhaps, but a few brave journalists have been to Mariupol and have reported that the Azov nazi forces were using women and children as human shields in multiple buildings for months.
Once the dust settles, Russia will have control over Mariupol. Ukraine says it will continue fighting in the eastern regions of Donetsk and Luhansk.